What is a piano ensemble class?
The school offers a class called Piano Ensemble for piano majors, piano and creative writing course, piano performer course, composition major, and general music course (from the second year).

In the Piano Ensemble class, students learn how to play two or more pianos together, how to breathe together, and how to create music with others. Classes are taught in a group lesson format, with several faculty members rotating through the course. The variety of teaching is one of the attractions of the Piano Ensemble.

In addition, students who pass various auditions and those who perform well in examinations are eligible to perform in chamber music concerts and piano ensemble concerts.

In this article, we introduce two students who have shared and carried various hardships and joys as a pair in piano ensemble classes for three years, and have made brilliant friendships and music together.

They are Ms. Saori Nagatani and Ms. Yukina Hirohata, two of our 2021 graduates who are currently enrolled in the Piano Performer Course at Tokyo College of Music.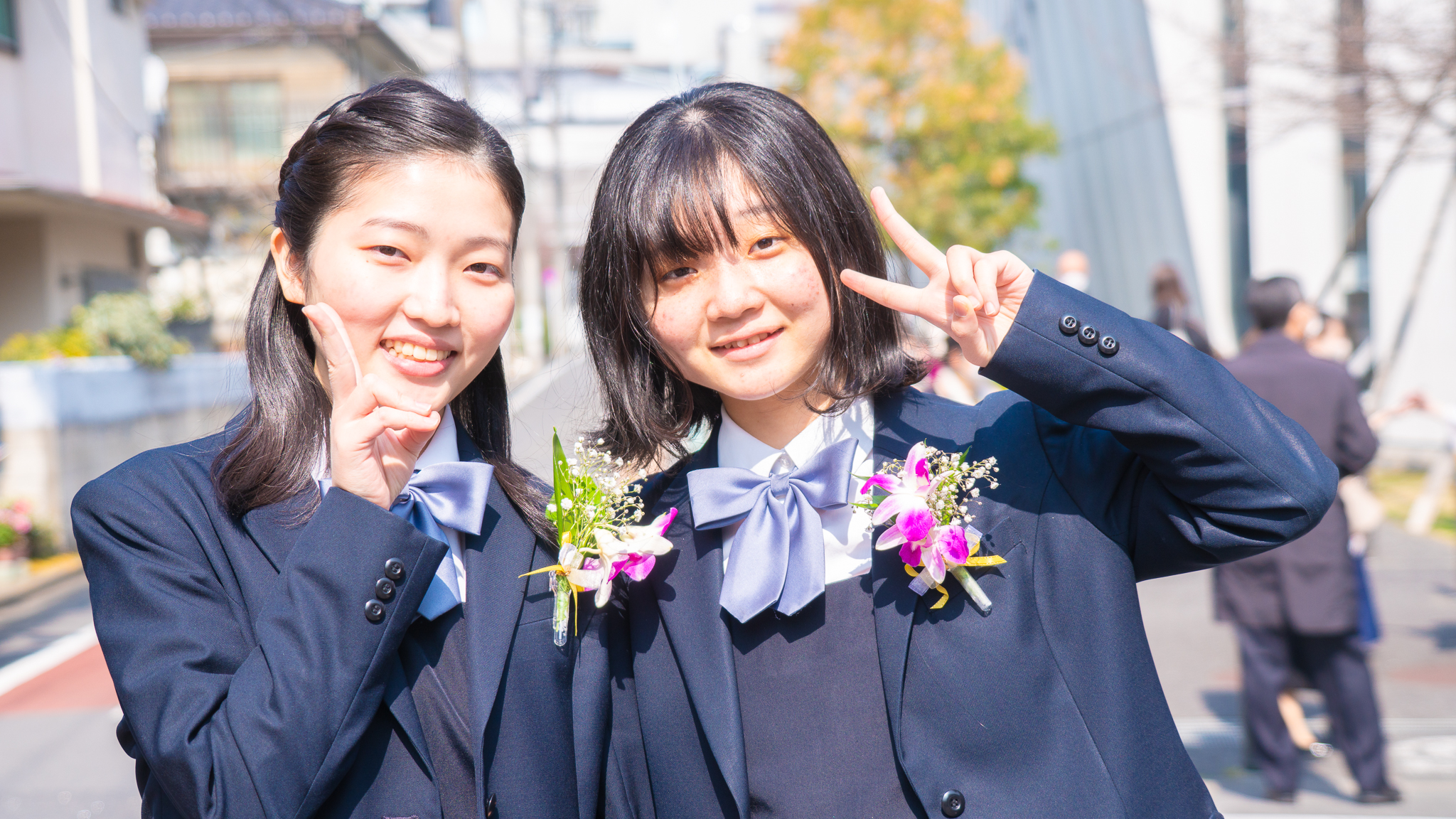 The two of them have always acted as great friends, not only in the piano ensemble, but also on a daily basis, and their bond has been very deep.

Their activities have been especially remarkable since they became third-year students, and they have had a very busy year with a representative performance at the piano ensemble class guidance for new students in April, a chamber music concert in July, a performance at the school information session for students preparing for the winter semester, and a piano ensemble concert in January.

Please take a look at the graduation book written by these two students.
The Important Time" - Saori Nagaya
One of my most memorable moments in high school was playing in an ensemble with friends from various instrumental majors. I really enjoyed playing together and learned a lot. In the two-piano ensemble, my friends and I found time to rent a practice room and play together a lot. Since we were paired up as first-year students, we became more serious about our performances and our approach to practicing changed over the years. I was very happy to be able to play my favorite piece with them in Hall A at the chamber music concert we performed in the third grade. In the horn trio, we struggled at first with Brahms, which I was not very good at, but as the three of us talked about the music and practiced together, I came to like it more and more. Music is profound, and it's great! I realized that I was a good person. I have experienced many things over the past three years, and I think I have grown a little. I am very grateful to my teachers, seniors, friends, and parents. At university, I want to continue to work hard and challenge everything with a voracious appetite.
Graduation" - Yukina Hirohata
I feel like I just recently became a high school student. There were times when I couldn't play the piano as well as I wanted to, and there were times when I felt impatient and depressed because of the gap between myself and those around me, but it was all fun and the three years passed by in a blink of an eye.

The thing I enjoyed the most was playing in the piano ensemble. Since I had overwhelmingly more opportunities to play alone, playing together with other people was very new to me. It was very fulfilling to practice together, discuss how we could make it better, and complete the performance together. I learned a lot, and I can't thank my friends enough for pairing me with them. I was very happy to be able to perform in a concert in my third year, and it was a memorable experience.

I think it is not a matter of course to have an environment where people around you who love music and who you can perform with are a given, so I would like to cherish my connections with others and enjoy learning music at university as well.
Video of a performance at a chamber music concert
Neither of them had any idea about the contents of the book they each wrote, and when they lifted the lid, they were in for a big surprise! It turned out to be a very compatible graduation book.

At our school, students can actively learn music by voluntarily forming groups, not only piano ensembles, but also string quartets, woodwind quintets, piano trios, and so on. They are encouraged to "want to do it! is an irreplaceable and important element. Students who free their feelings and musicality and continue to train themselves shine.

In this article, we have introduced a part of the school life of these shining students.

Lastly, please listen to Ms. Nagatani and Mr. Hirohata's performance.
This performance was given at a chamber music concert on Saturday, July 17, 2021.
Wouldn't you like to experience such a wonderful ensemble at Tokyo College of Music High School?