Chamber Music Concert Outline
The school offers many curricular opportunities for students in each major to learn to play in small ensembles on their own initiative. Piano students may participate in piano ensembles, string students in string chamber music, wind and percussion students in wind and percussion chamber music, and so on.

Groups recommended by the instructors in each ensemble class are eligible to perform in chamber music concerts.

Auditions for the right to perform are also held and are open to students who are not enrolled in the class.

Auditions are divided into four categories: piano ensemble, string, wind, and percussion ensemble, vocal ensemble, and composition ensemble. The Composition Ensemble division is particularly busy, as the number of students showing interest in composition has exploded in recent years.

The following is a review of the great performances of the 13 groups selected through the above class nominations and auditions.
You can also view the archive feed from the bottom of the page, and we hope you enjoy it.
Marimba Trio
Marimba Trio: I.Kotomi Wachi II.Hina Furuichi Ⅲ.Tougo Sawada
E. Zack / Chasing the Reindeer

he hall was filled with the soft and fantastic sound of the marimba. The students were so brave that they held two mallets in one hand, and when combined with both hands, they were able to freely manipulate a total of four mallets to play music. It is truly a feat of virtuosity.

The marimba in the lower part of the stage is a special marimba with a wide range of 5 octaves, and the opportunity to play such an instrument is one of the charms of the percussion department at the school.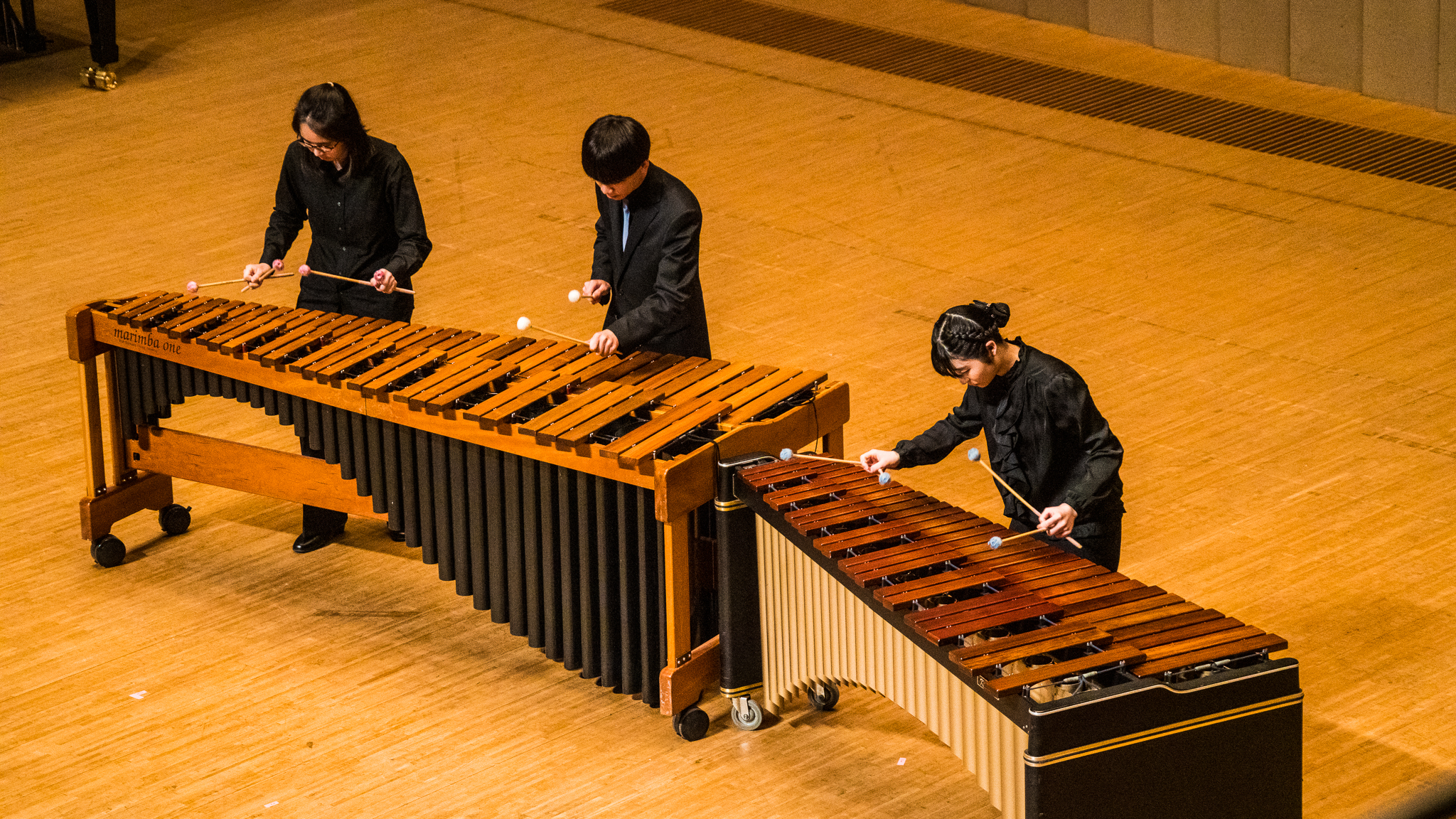 Saxophone Duet
Saxophone Duet: I. Miai Ito Ⅱ.Mirei Motohashi
J.M.Leclerc / Sonata for 2 violins op.3 No.2 (for alto saxophone)

Masterpieces from the Baroque period have been brought back to life today on the modern instrument, the saxophone.

We musicians are constantly confronted with this calling: how to preserve this wonderful legacy for future generations. Instruments have undergone minor changes over the ages, and in the case of Baroque works in particular, the sound and scale of the instruments have transformed since the time of composition. The sound and scale of instruments have changed since the time of composition, especially in the Baroque period. We hope you will enjoy this performance in which the two students face these challenges head-on.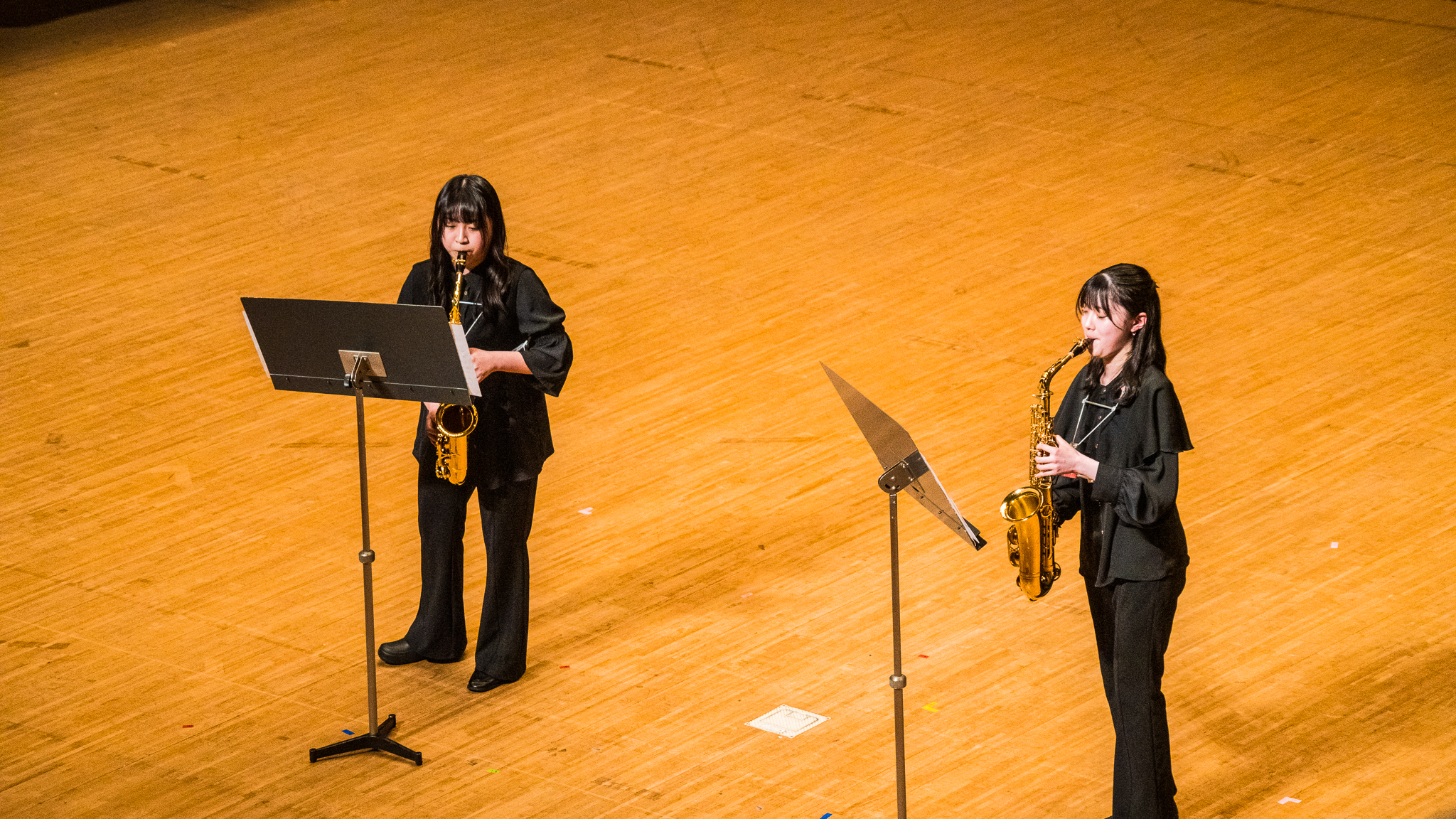 Presentation (String Quartet)
Presentation (String Quartet): Chihiro Kawamoto (Violin I: Ayaka Hisa, Violin II: Hibiki Watanabe, Viola: Haruka Misuno, Cello: Mana Horiuchi)
Chihiro Kawamoto / Three Separations for String Quartet I.Lamento II.Marcia III.Euphoria

Some continue the legacy, others continue to create one from zero. The premiere of the new work took place under tremendous tension, and we were present at the historic moment.

Many people may be intimidated by the idea of a contemporary piece, but this new and lovely piece is a perfect introduction to contemporary music. The composer seemed to be overcome with emotion as he received thunderous applause after the performance.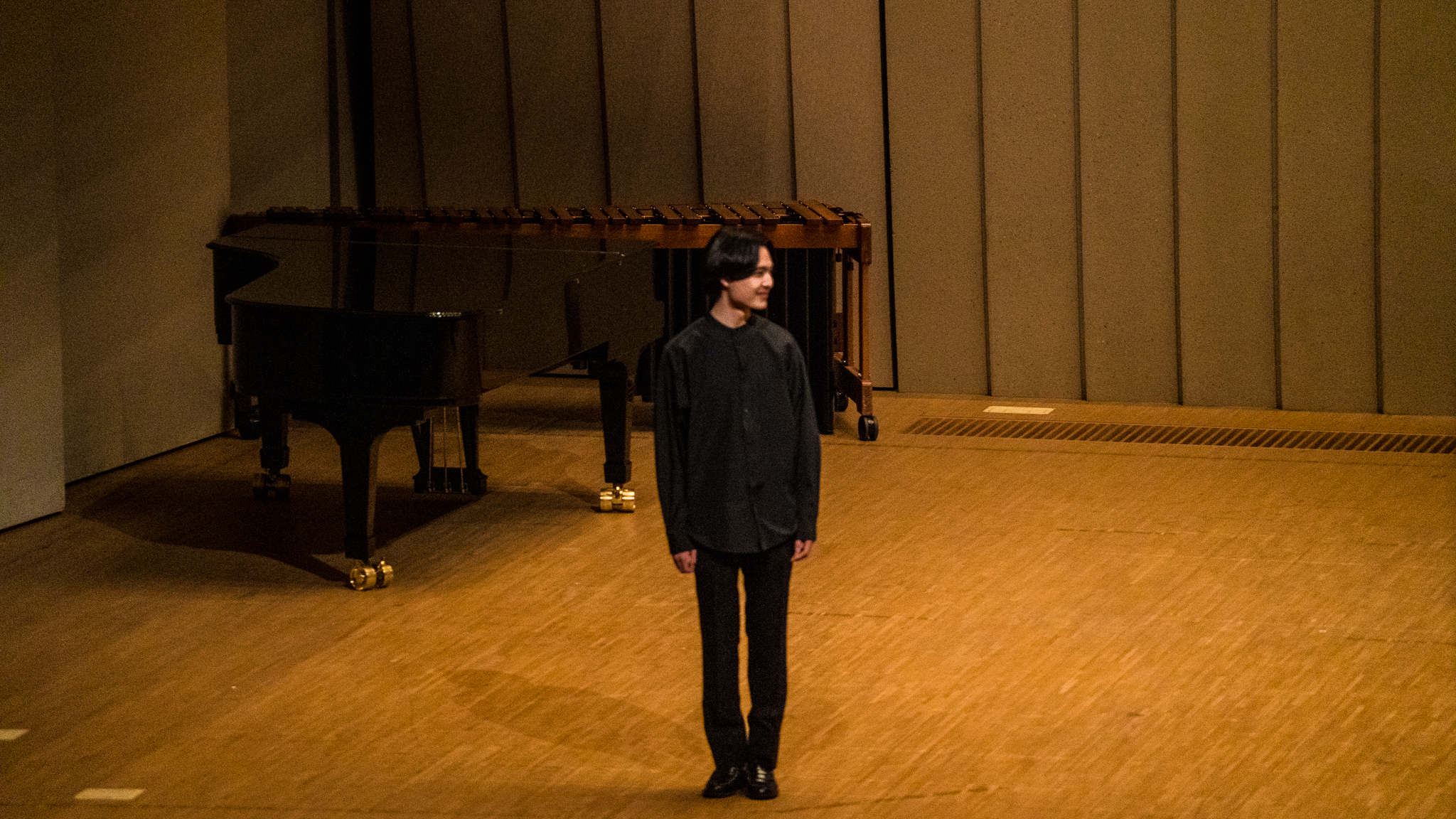 Woodwind Quintet
Woodwind Quintet: Mikoto Anzai, flute, oboe Shunsuke Yoshikawa, clarinet Minatsu Konagaya, bassoon Ayano Tanabe, horn Taiga Yamamoto
J. Haydn (arr. H. Perry) / Divertimento, movements 1, 2, 4

This is a work for strings arranged for wind instruments. The theme of the second movement is also used in "Variations on a Theme by Haydn" by J. Brahms (some recent studies suggest that the theme is not by Haydn), and is particularly well known. The romantic and playful style of Haydn's writing could be tasted in this performance with a different taste from that of stringed instruments.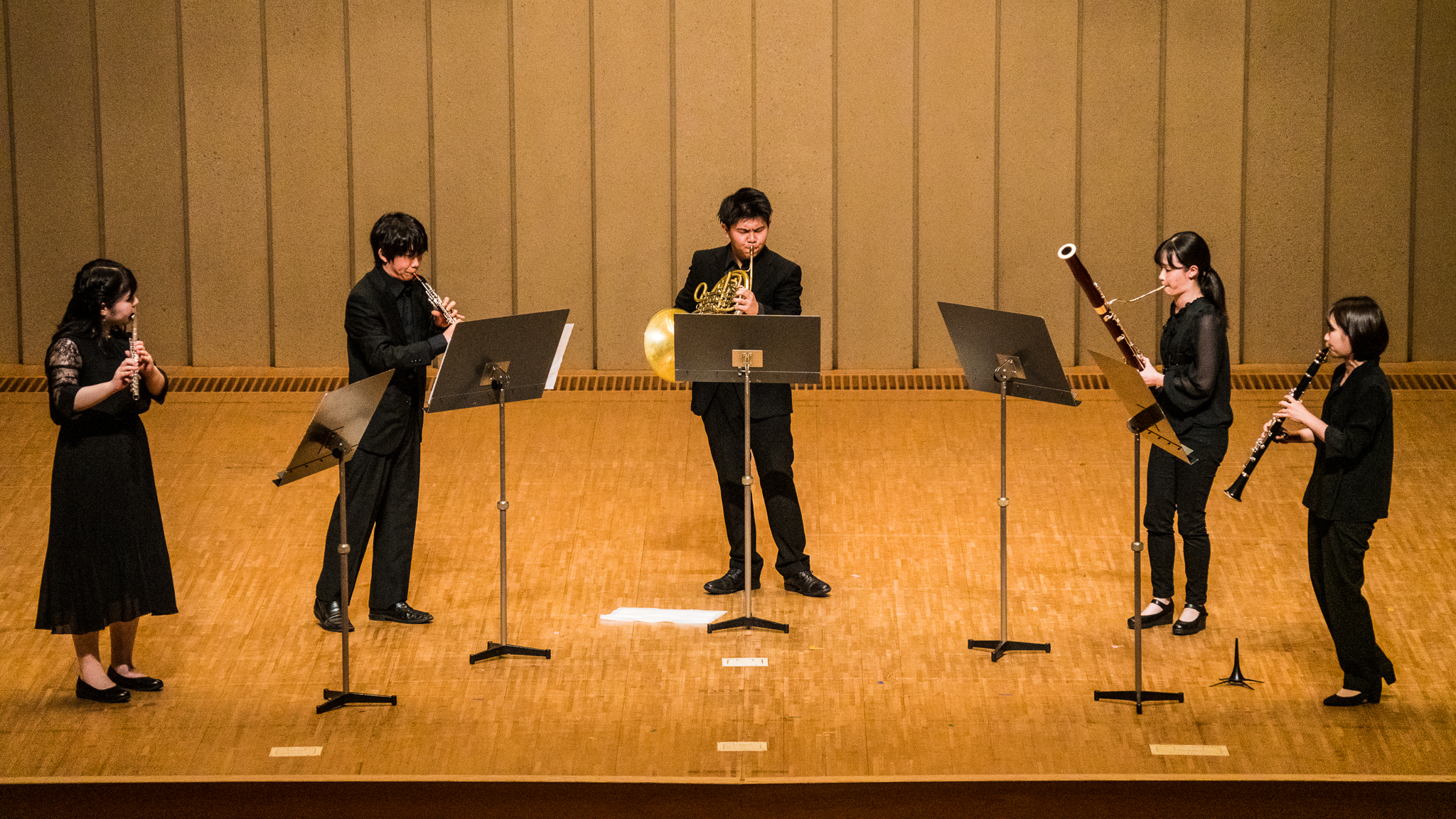 Classical Guitar Duet
Classical Guitar Duet: I. Rika Hisatsune II.Shoutarou Yoshida
M.de Falla / Spanish Dance No.1

This is a lovely classical guitar duet with a delicate and melancholy tone. The carefully constructed music will penetrate into the hearts of the listeners. Our school is one of the few music high schools in Japan that specialize in classical guitar. We will continue to promote the charm of classical guitar to the world.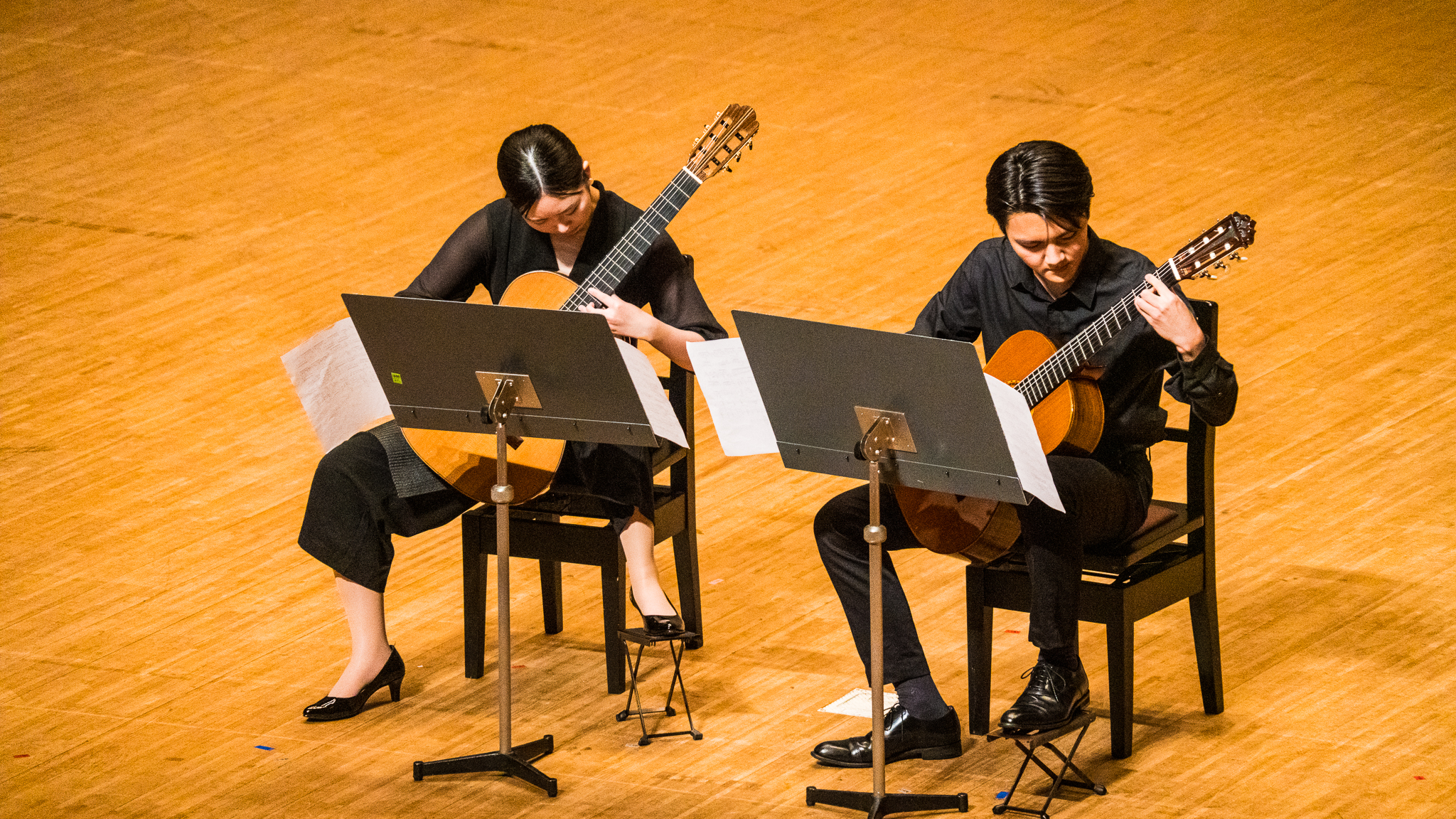 Piano Quartet
Piano Quartet: Violin Ayaka Hisa, Viola Haruka Misuno, Cello Ami Kohara, Piano Shiho Sato
R. Schumann / Piano Quartet in E-flat major, op.47

The Piano Quartet was written by Schumann in the year known as the "Year of Chamber Music," a year in which he produced many masterful chamber works. It is full of euphoria and is one of the most popular of Schumann's works. Please enjoy the performance in which the piano and the string group of the violin, viola, and cello are lovingly nestled together.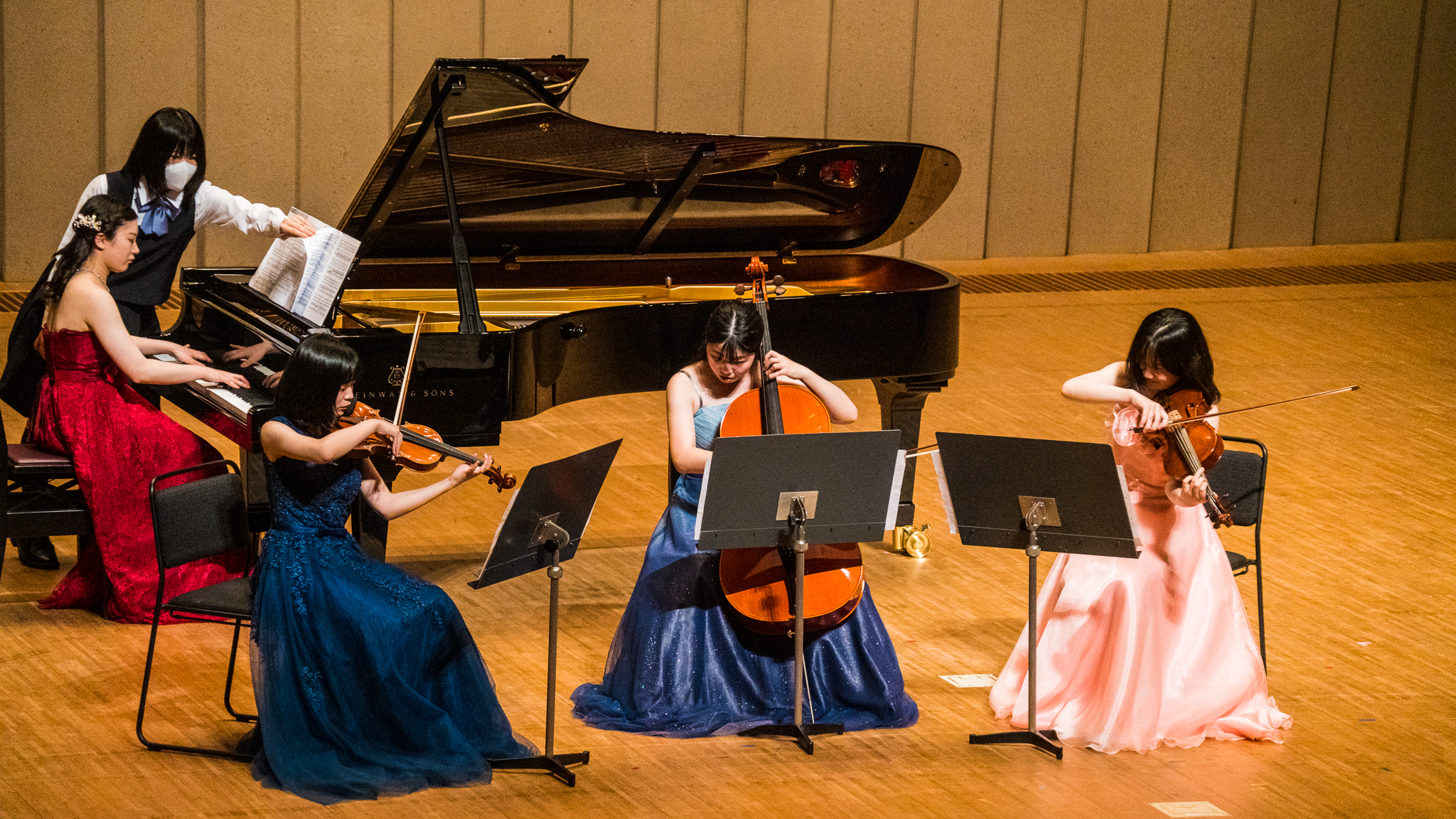 Piano Trio
Piano Trio: Hibiki Watanabe, violin Saaya Yasuda, cello Rino Tamaki, piano
P.I.Tchaikovsky / Piano Trio in A minor, op.50 <In memory of a great artist

It is a masterpiece written by Tchaikovsky after he lost his close friend, the pianist Nikolai Rubinstein. It is especially famous as a piece that requires exceptional and advanced technique from the piano player. This led to the Russian tradition of composing chamber music in memory of the deceased, a tradition that was carried on by later composers such as Arensky and Rachmaninoff.

We hope you will witness the passionate performance by the high school students, which painfully conveys Tchaikovsky's deep sadness.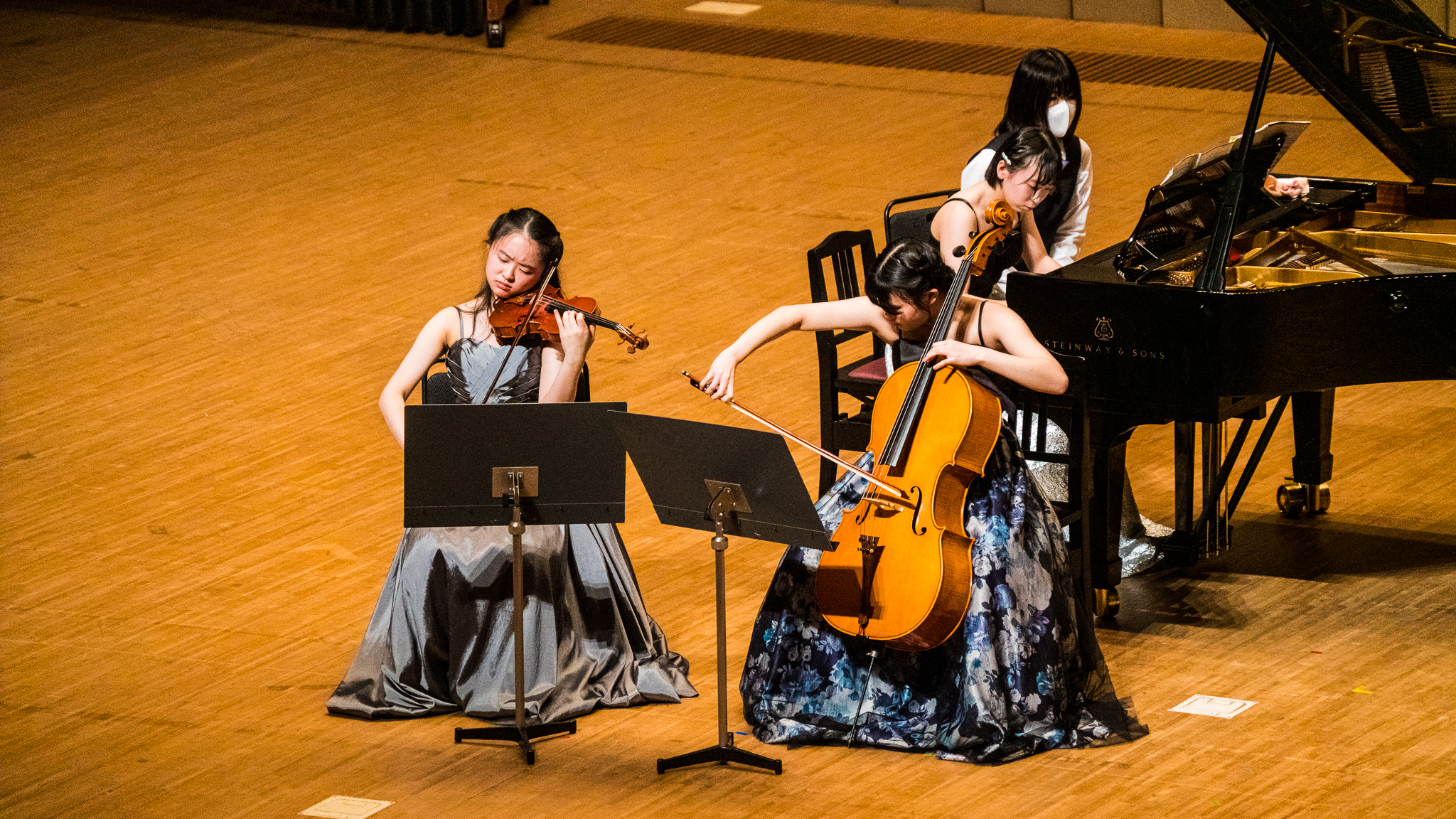 Harp Duet
Harp Duet: I. Akari Sakurai II.Aiko Toumatsu
J. Thomas / Coronation March

The harp is a representative of noble and elegant instruments. It is a very expensive instrument, and just having one harp is a rare treat, but at our school's chamber music concert, we were lucky enough to witness a performance by two harps.

The way the players run their fingertips over the countless strings is as if a heavenly messenger had descended from the heavens. Please enjoy a healing moment that will cleanse your heart.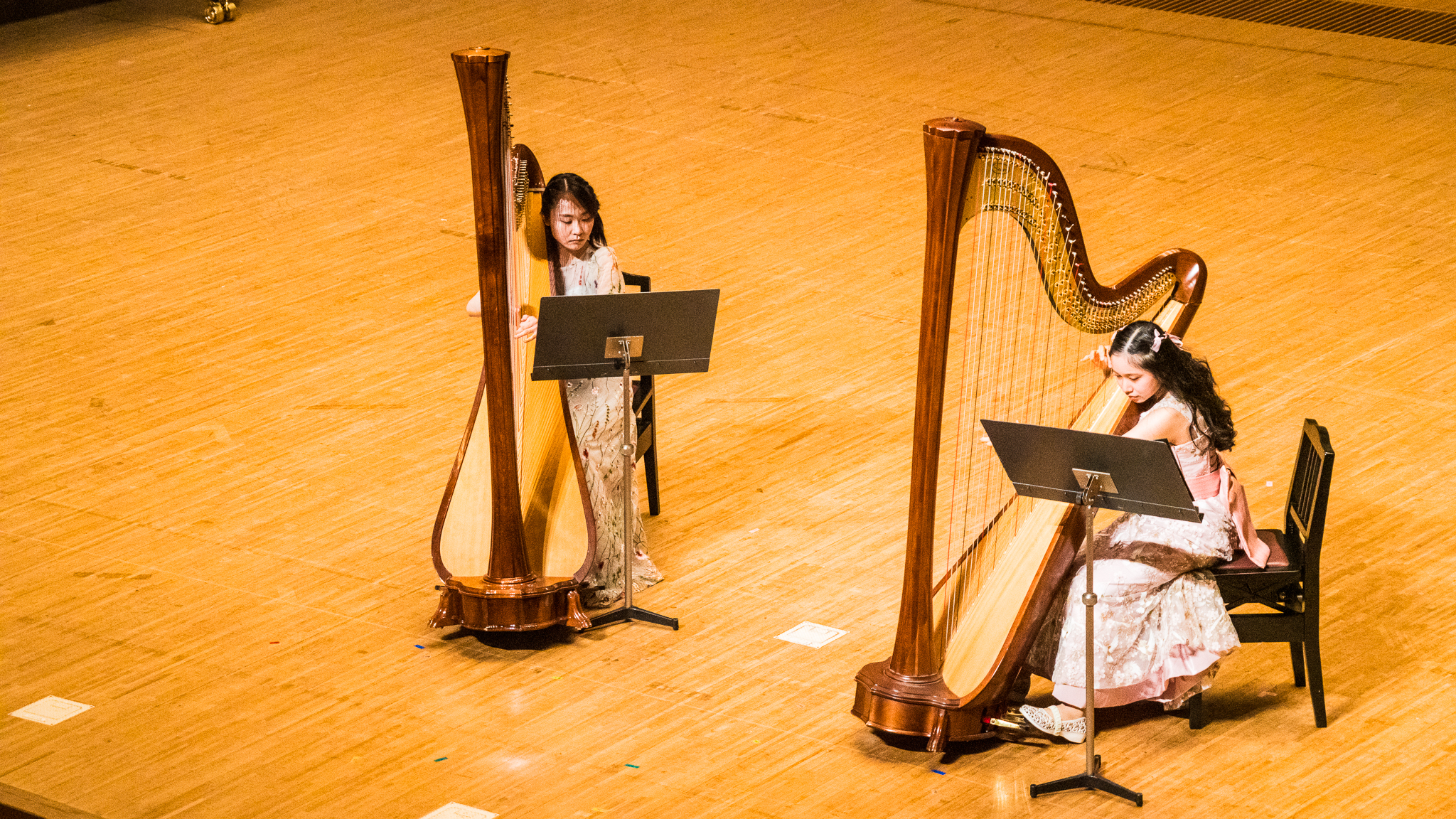 Presentation(Duo Pianos)
Tomoki Ikarashi (I. Riho Sasaki, II. Tomoki Ikarashi)
Humorous Dance in the style of Tarantella

Composers create new worlds. In recent years, composing and performing are sometimes divided, but in the past, composers created and performed their own music. In the past, however, composers created and performed their own works. Mr. Igarashi's rigorous worldview has been further expanded by Mr. Sasaki, and a new masterpiece has been born.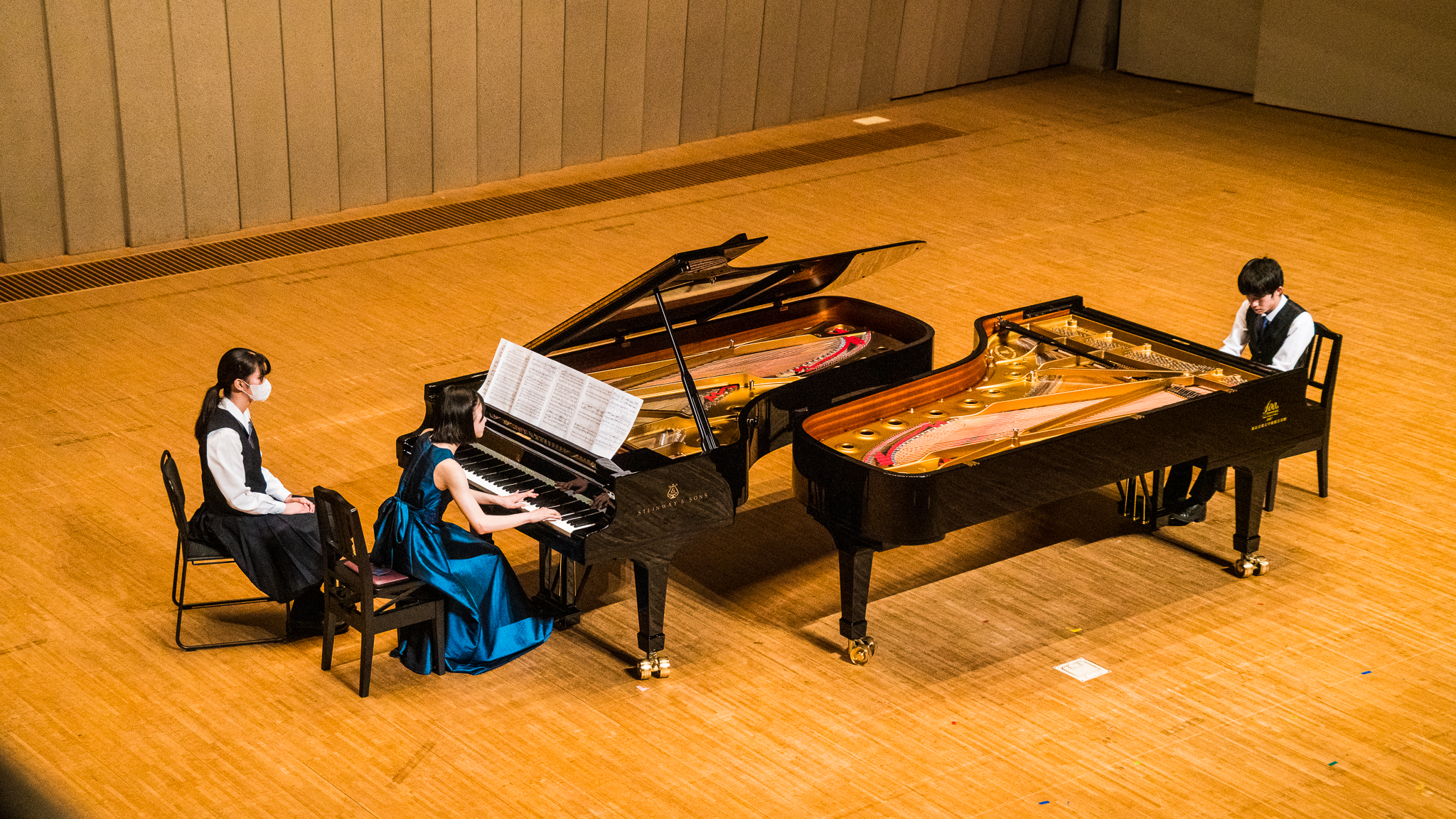 Duo Pianos #1
Duo Pianos: I. Minori Terui Ⅱ Narumi Kawagoe
C. Saint-Saens / Dance of Death op.40

The title of this piece, "Dance of Death," is extremely eerie. In this orchestral work, the French composer Saint-Saens depicts how, as the clock strikes midnight, skeletons appear and begin to dance eerily, gradually increasing in intensity until, at the sound of the rooster's call announcing the dawn, they flee back to their graves and are once again enveloped in silence. The two-piano version was performed this time, and the dancing skeletons and the sound of bones colliding with each other were also expressed on the piano, and the two performers created a bewitching and fantastic atmosphere.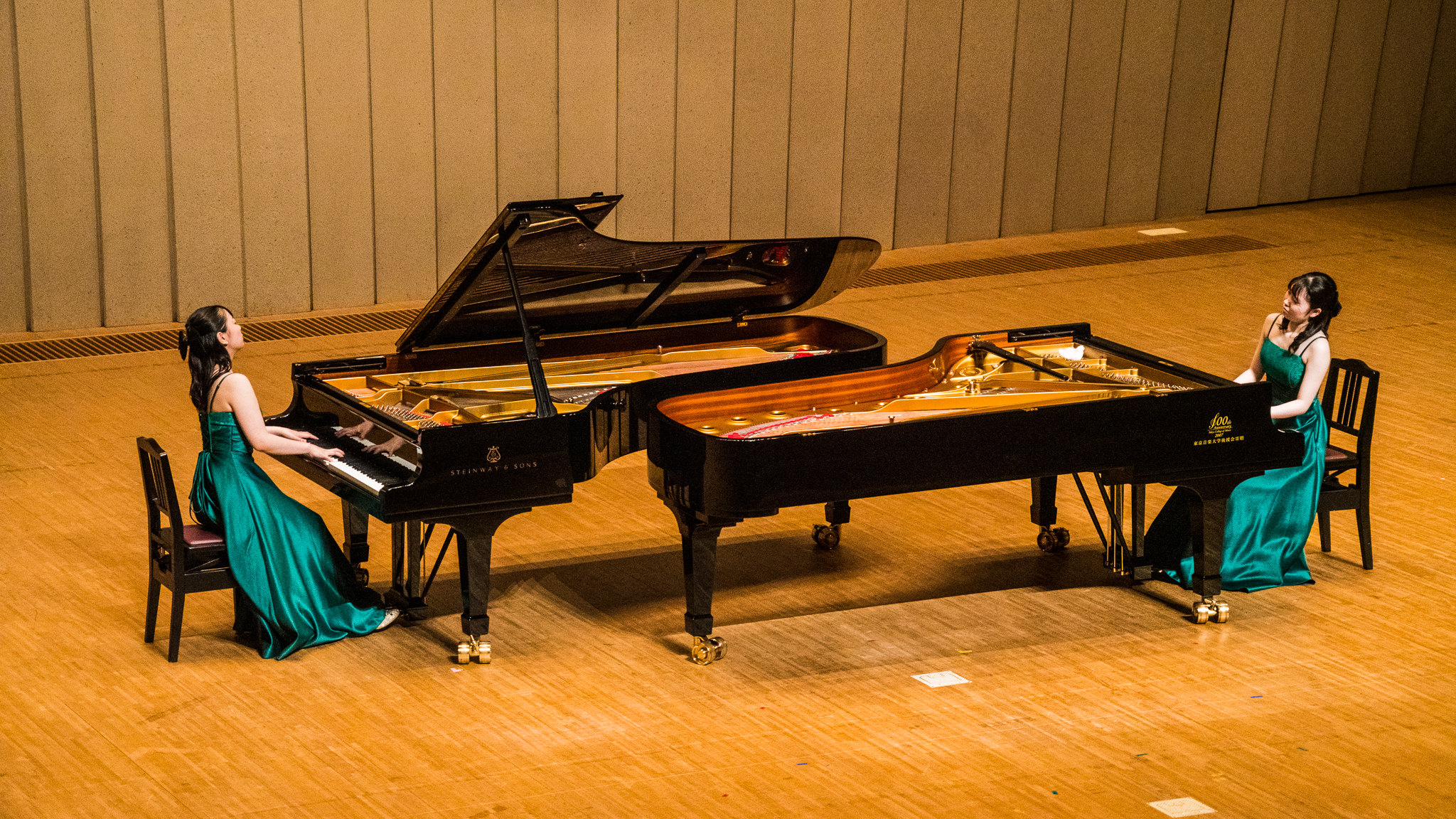 Duo Pianos #2
Duo Pianos: I. Marina Sakimoto Ⅱ Maaya Isada
S. Prokofiev (arr. Rikuya Terashima) / Classical Symphony op.25 1st movement

Prokofiev, a master composer of the modern era, was a composer who cherished the beauty of classical form in a time when form was collapsing and tonality was being lost. The two composers' firm understanding and interpretation of his works have brought aesthetic expression born of tradition back to our time. Prokofiev's pure acoustics and beautiful costumes synchronized to create a glittering venue.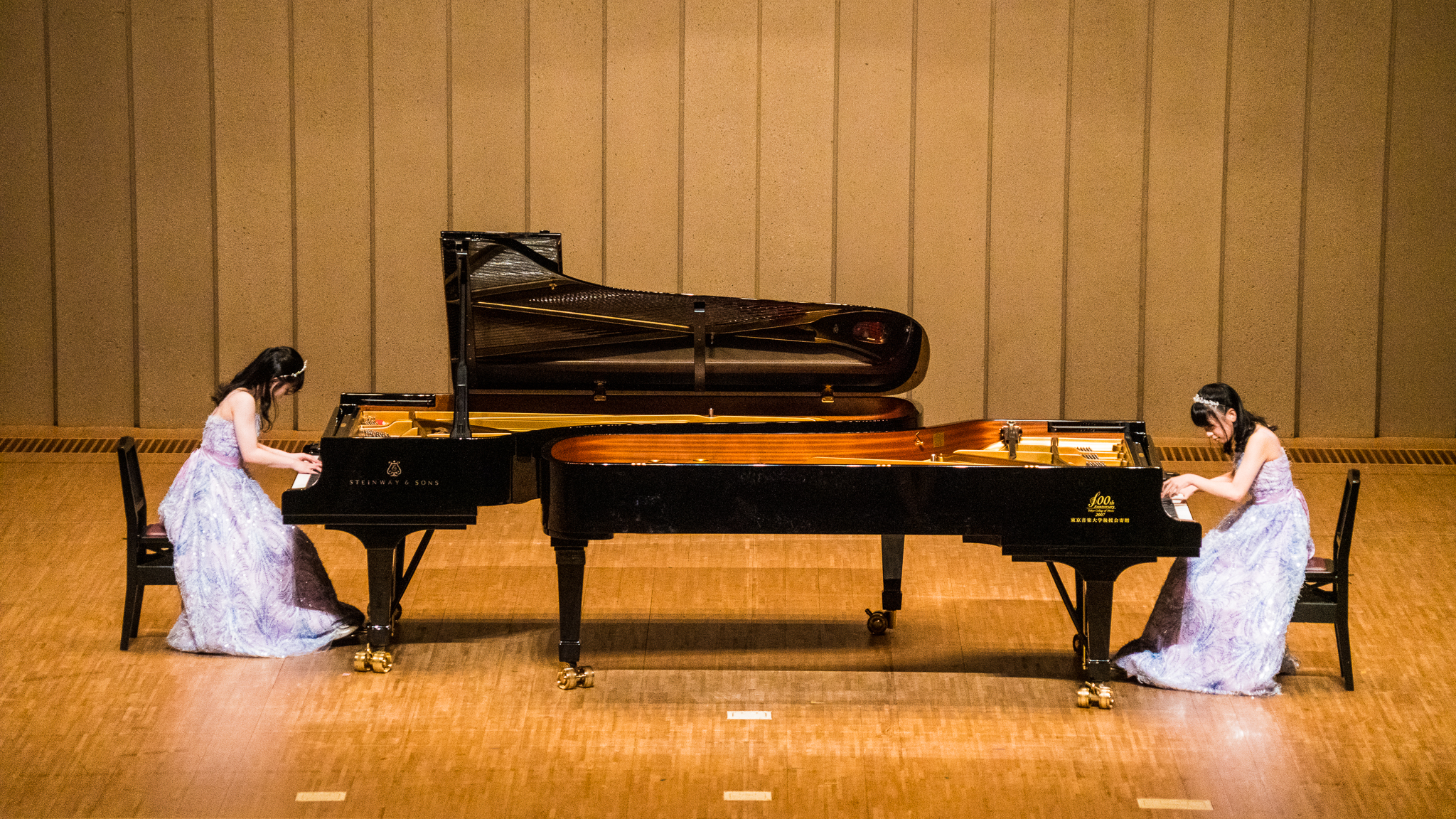 Duo Pianos #3
Duo Pianos: I. Shiho Sato Ⅱ Sachi Akutsu
S. Rachmaninoff / Suite No.1 "Fantastic Pictures" op.5 2. night, love, and 4. Easter

This piece was inspired by a poem. It was dedicated to Tchaikovsky at the time of composition, and Tchaikovsky himself was scheduled to listen to it, but passed away shortly before the dedication. The two musicians' mellow piano tones sublimated Rachmaninoff's characteristic profound, romantic, and poetic style to an even higher level, enchanting the audience.